Collaborative Tools to
Move Things &
Connect People

Learn How
---
ADVANCED VISIBILITY TO YOUR
SUPPLIERS AND CUSTOMERS

Up to 100 planned, estimated and actual events are fetched directly from the source.




Enable customers to connect and book their shipments,
without switching systems.
Get real-time ETA updates based on weather,
speed and vessel location.



From booking to delivery, get real time ETAs based on traffic,
weather, loading time and geolocations.
Share shipment updates with partners
to improve productivity, reduce dwell time and fines.


In order to provide complete visibilty of your shipments
we partnered with the leading rail and intermodal service providers
to retrieve via API the latest shipment status and ETA.


Connected to more than 100 air freight carriers,
our system allows you to track in real-time your freight
from take-off to landing.
Manage delays, exceptions and take actions
before they occur.


Tap into a network of thousands independent
carriers, to deliver your parcel.
Track, share and analyse with your partners
every update/alert of the shipments.


Manage your last mile delivery with tools,
that help you to plan, dispatch and optimize routes.
Provide your customers a real-time visibility to
their items from pickup to delivery.
---
GLOBAL COVERAGE

We connect to carriers via API directly from to their systems.
With an expansive access to 700+ ELDs, our system retrieves the driver's location for visibility.
A driver's app available for Android and Apple users provides a mobile tracking as well.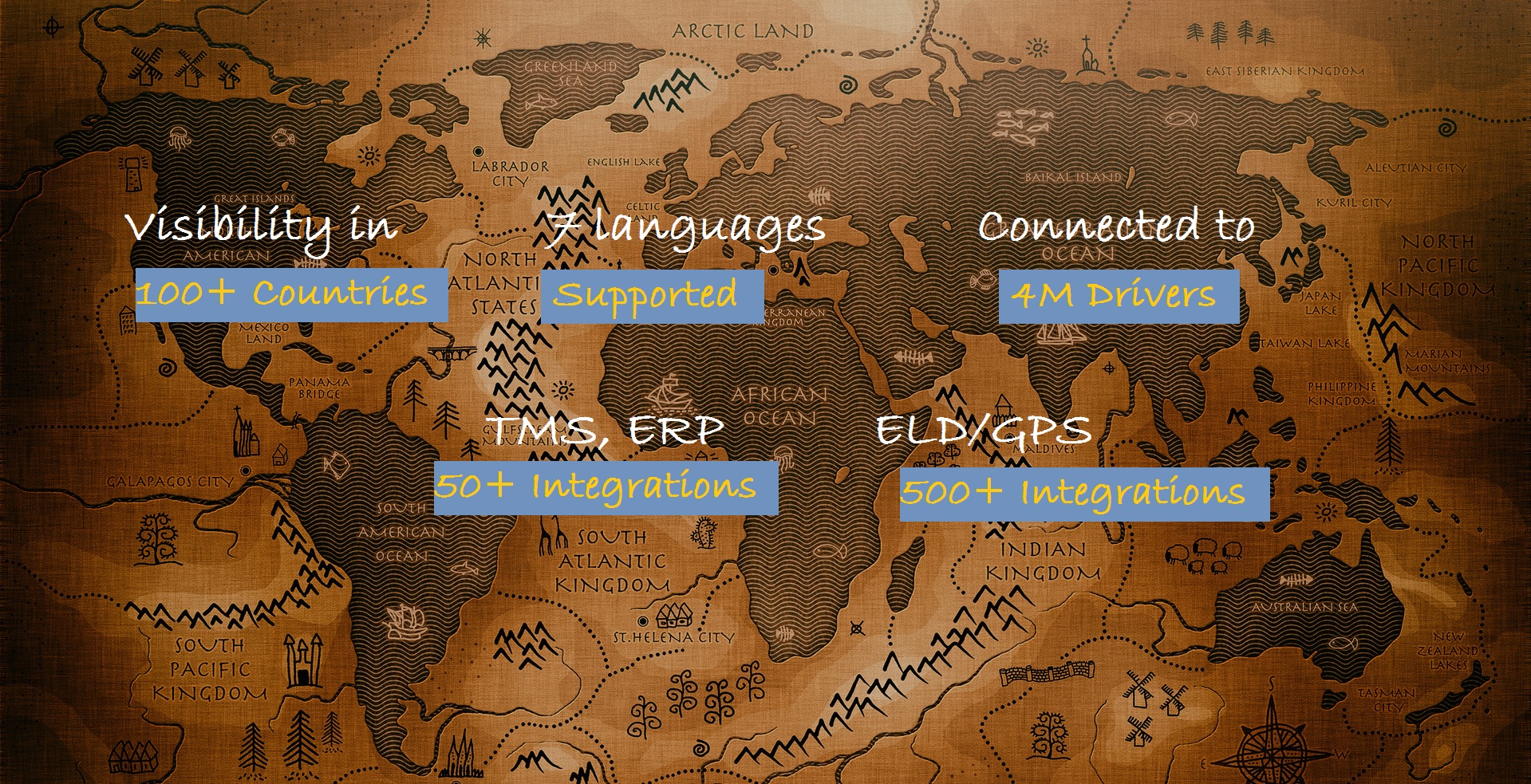 Customer Stories
---
Every business is unique.
Let's talk about your goals.
Get In Touch
Full Name
Work Email
Business Name
Phone Number
Industry
Monthly Delivery
Your message
---